Bank History
Peoples Bank, chartered in 1901, is the oldest and largest bank in Crawford County, with offices in Cuba, Steelville, Bourbon and Sullivan. The bank's assets have grown from $14,168.20, less than today's average CD account, to more than $200 million. More importantly, Peoples Bank has remained committed to community growth and development throughout its 121 year history.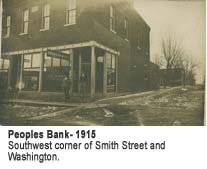 This commitment began with the bank's founders and continues today. Frank Fishwick served as the bank's first president, with J.M. Munro, M.S. Barnett, Ebenezer Simpson and John W. Waller as members of the first board of directors. C.R. Hitch was elected president in 1917, followed by J.M. Munro the same year. In 1920, A.J. Barnett, who had been the cashier from the time the bank was formed, was elected president and served for 39 years. After his death in 1959, he was succeeded by his son W. James Barnett. In 1975, W. James Barnett, Jr. became president. He was elected chairman of the board in 1994 when Ken Holland was chosen to serve as president. In 2007, Doug Lasley became president, with Barnett continuing as chairman. Holland retired in 2009.
The origi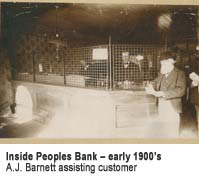 nal location of the bank was on the east side of Smith Street. In 1906, the bank moved to the southwest corner of Old Rt. 66 (Washington St.) and Smith Street, sharing the building with the post office and Cuba Masonic Lodge.
In the 1930s, Cuba was not spared from the Great Depression. Though two neighboring banks closed, Peoples Bank survived the crisis of 1933 by declaring a 30-day moratorium to prevent a run on its accounts. Local businessmen and citizens upheld their faith in Peoples Bank and the danger was averted.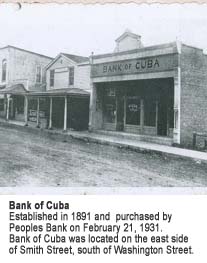 In 1937, the Bank of Oak Hill was acquired. Also in 1937, the Business Men's Club guaranteed funds, with the assistance of Peoples Bank, for the construction of Echo Supply's building, a company that manufactured shoe dies. The shoe industry remained an important industry in Cuba for over 60 years.
In 1946, civic-minded citizens formed the Cuba Development Company with 5,000 shares of stock at ten dollars a share. In the initial offering, A. J. Barnett was the largest purchaser buying 50 shares. Additional loans by Peoples Bank were made to bring in other factories, helping Cuba to prosper.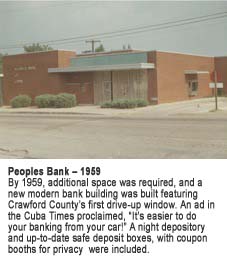 Peoples Bank continued to expand to meet the ever-growing needs of the community.  In 1959, employees rolled the bookkeeping machines down the sidewalk to the bank's new building at Buchanan and Washington which featured Crawford County's first drive-up window and night depository.
Peoples Bank opened its second office in 1977 on North Highway 19 near I-44.
In 1980, the bank became the first in the area to offer a seniors' program. The GO (Golden Opportunity) Club offered members free services, monthly get-togethers and day trips to area attractions, plus extended trips throughout the U.S. and abroad. Today, Peoples Travel offers travel opportunities to people of all ages.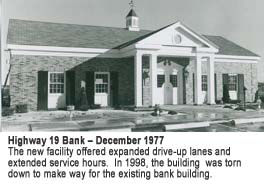 In the early 1980s, the community suffered a major economic setback. Cuba's shoe industry, which had been an economic mainstay from the 1950s through the 1970s, began to suffer due to the influx of foreign imports. This forced many shoe manufacturing plants in Cuba to close, and the job losses hit the community hard. Soon, a third of Cuba's citizens were living below the state poverty level.
Officers of Peoples Bank worked closely with area leaders to bring new industry and jobs to the community by providing over $4.2 million of low-cost financing. To complement the industrial development efforts, they also helped form the Viva Cuba Beautification Committee.
As the community recovered and business increased throughout Crawford County, further expansion was required. In 1985, a financial center consisting of a loan production office and walk-up teller station was opened in Steelville. Likewise, a financial center was established in Bourbon in 1986.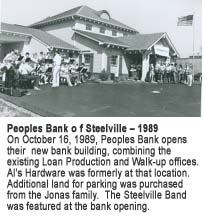 In 1989, Peoples Bank opened its new bank building in Steelville. At that time, they helped coordinate the restoration of downtown Steelville, offering $500,000 in financing to businesses for the improvement of building exteriors. The efforts resulted in 27 merchants participating which brought new life to the downtown.
In 1991, a full-service facility was opened in Bourbon. Once again, Peoples Bank was a community leader by playing a key role in the building of the community center and library.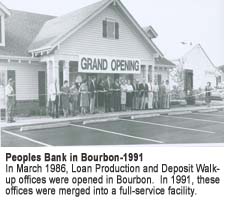 Peoples Financial Services (PFS) was formed in early 1992 as a subsidiary of Peoples Bank to offer investment services to the bank's growing customer base. At that time, Peoples Bank was one of only a few community banks in the nation to offer these types of services.
In 1996, the Internet age came to Cuba. Peoples Bank and Fidelity Telephone Co. in Sullivan combined to offer dial-up Internet access. Internet banking was introduced to customers in 1997, and Jim Barnett, chairman of Peoples Bank, was quoted as saying, "In five years, the Internet will be as important as the telephone was years ago."  Few would argue with that statement today.

In 1998, the decision was made to tear down the North Highway 19 office and replace it with an 8,000 square-foot state-of-the-art building which opened in May 1999. The new facility is four times larger than the previous building, with convenient customer service areas and high tech technology.
Responding again to customer demand, Peoples Bank opened its fifth office in Sullivan in 2007. The staff serves on many community boards and committees, upholding the Peoples Bank philosophy of helping the communities in which they serve.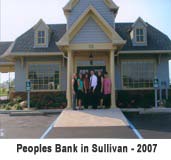 Also in 2007, Peoples Bank became one of the first community banks to provide mobile banking, and in 2010 announced their new iPhone application and text banking service. The bank remains devoted to implementing emerging technology to provide convenient and secure services.
2020 proved to be truly historic as we joined worldwide efforts to mitigate the spread of COVID-19 novel coronavirus – the first pandemic in more than a century. With the health and safety of our customers and staff more important than ever, we shifted our services to reflect the CDC's best practices and guidelines. Despite impacts of the resulting economic downturn, we were proud to support local businesses through Paycheck Protection Program (PPP) loans totaling more than $7 million, as well as donating $50,000 to area charities. An unprecedented year truly exemplified and galvanized our commitment to people and the strength of our community.
Though much has changed, Peoples Bank has never lost sight of the principles so valued by its founders. Our employees and directors take pride in offering the services of a big bank while maintaining the personal touch of a community bank. We have shared in Crawford County's successes for a long time, and we will continue to be a valuable resource for our customers in the future. Our goal is to continue to provide quality service and products that are expected and deserved.